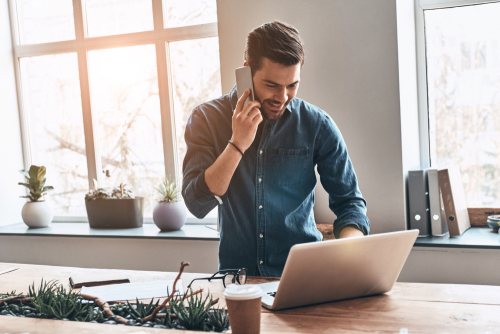 Unified Communications is the integration of communication services such as instant messaging (chat), presence, voice, mobility (twinning/mobile app), audio, web & video conferencing, desktop sharing, data sharing/collaboration, call control and speech recognition with non-real-time communication services, such as unified messaging (integrated voicemail, e-mail, SMS and fax). UC is not a single product, but a set of products providing a consistent unified user interface and user experience across multiple devices.
Why Work with Convergent?
Moving your voice platform to the cloud can be very confusing due to the extremely large number of companies that provide UCaaS solutions today. Unfortunately, they are not all the same and different carriers are better suited to help different types of environments. When you work with us, we can help you pick the right UCaaS solution for your unique needs.
Assessments
We can help you identify what features you need and your security compliance requirements to choose the correct carriers to bring in.
Design
We can recommend UC solutions based on current industry trends and best practices, so you can be sure that you are receiving a quality solution.
Implementation
In addition to securing the correct UC solution, we can often assist you with implementing new solutions.
Audit Services
We will audit your current communications services and platform solutions to determine if you are using the best and most cost-effective solution for your business.
Procurement
We are UC supplier agnostic and work with numerous providers. We can offer the best options from multiple suppliers.
Expense Management
We want to provide you with a great UC solution within your budget and will work to make sure you are investing your money well.
Working with an independent consultant allows us to analyze your needs and source the best solution provider(s) that meet requirements and exceed expectations. This is done agnostically, letting you focus on the project at hand without being tied down by endless supplier discussions.
Frequently Asked Questions
Why would I want to move to a UCaaS solution when my prem-based PBX works fine and is paid for?

We hear this from clients all the time and that makes it a perfect time to evaluate the market. Often people don't realize the potential cost savings for moves, adds and changes as well as administration and productivity benefits a new communications and collaboration solution brings. This is a great reason for us to chat and explain the benefits of deploying new technology.
Will my network support UCaaS?

Yes, however the call quality may or may not be impacted based on the existing network you have in place. During our discovery process we will help you determine what changes if any you'll need to make to your current network to ensure optimal voice quality. Most of the time a MPLS network just to support cloud UC services is not practical or cost effective. If preferred we have options to where you can securely extend your existing MPLS networks into our data centers, offering a cost-effective way to migrate to the cloud with enterprise quality of service and without the need to dislodge existing network investments.
We have a lot of employees that travel and work out in the field. Do you have a mobile solution?

Yes, reliability and mobility must go hand in hand, as customers are no longer willing to sacrifice one for the other. UCaaS can dramatically simplify mobile application deployment and management, and many organizations are now even opting for a mobile-first strategy, replacing traditional desktop phones with smartphones and tablets to connect increasingly distributed workforces.
What is the UCaaS disaster recovery strategy?

UCaaS platforms have a high-availability, fully redundant, multi-data center architecture that guarantees service availability in the event of a data center failure. In short, regardless of the reason for failure (e.g. storm or man-made disaster), you will be unaffected even if an entire data center goes down.
Contact Us
…or give us a call!
Office Hours
Monday: 9:00AM – 5:00PM EST
Tuesday: 9:00AM – 5:00PM EST
Wednesday: 9:00AM – 5:00PM EST
Thursday: 9:00AM – 5:00PM EST
Friday: 9:00AM – 5:00PM EST
Saturday: Closed
Sunday: Closed