SIP Trunks Optimize Bandwidth & Budget
Leverage the power of cloud-based IP phone features, while extending the value of your existing telephony investments. Connect your IP-enabled PBX to the public telephone system using your existing broadband connection.

Flexibility
Purchase only the SIP trunks you need based on the maximum number of concurrent calls your business requires. Call Bursting Capacity adds call sessions for peak call times, above your purchased amount. 

Continuity
Voice traffic travels on a private cloud network and is prioritized over data packets. Calls are completed even if there is an outage on your network. 

Cost Savings
Businesses report saving up to 50% over traditional analog landlines. Lower long-distance rates and enjoy free in-network dialing between offices. Calling plans tailored for your business size, call volume, and long-distance usage.
Not all SIP Trunk solutions, or providers, are created equal.
Connection to Any End-Point
SIP voice solutions connect to any endpoint so you can modernize your phone system according to your needs and budget. Connect your existing equipment and legacy technology (such as a Key system or on-premises PBX) for an affordable solutions and seamless upgrade path.
IP Telephony that Matches Your Business Needs
Combine SIP for PBX at your main office with Unified Communications and hosted voice for remote employees and branch offices. Save on long-distance fees by using this single, unified platform. There's no charge for interoffice calls.
Call Burst Capacity
If your call sessions temporarily spike above your subscribed capacity, we've got you covered. Get through a special promotional event, an unexpected support issue, natural disaster, or other source of unforeseen call volume increase, and get back to business.
The Right Fit
With our consultative approach, we match the nature of your business and usage demands with telephony solutions and bandwidth that fit. You won't pay for lines, services, or bandwidth you do not need.
Business Continuity
Your business phone system must function, even if your PBX is down or your office has a power outage. Keep your phone system up and running with optional SIP features that are hosted and managed in the cloud, including Auto Attendant, Voicemail, and Call Forwarding.
Multi-Factor Security
To help prevent fraud, SIP protects call initiation by requiring both your SIP credentials and a specific IP address that you assign. Having your company registration is locked down to a specific IP address disallows registration from other locations.
SIP Trunking Also Supports Analog & PRI Trunks
PRI stands for Primary Rate Interface. A PRI Line (usually a T1 in the US) has 23 voice channels and one data/control channel. The line physically connects a business, via its PBX, to the Public Switch Telephone Network (PSTN). The 23 voice channels enable the business to hold 23 calls simultaneously. The channels can be used flexibly and reassigned as needed to meet special demands – like video conferences. Add more simultaneous call capacity by adding PRI lines.
Lines and Trunks – Stay in budget with us as your SIP Trunk provider. Only purchase the number of Analog business phone lines or trunks you require, based on the maximum number of concurrent calls your business currently experiences.
Voice Gateway – For optimal voice quality, Fusion Connect supplies a Router/IAD with Voice services. It supports voice Quality of Service (QoS), security, and monitoring.
Customer Network – Fusion Connect Analog and PRI Trunking works with your existing phone equipment, phone numbers, and IP data network systems. There is no need to acquire new phones or replace equipment.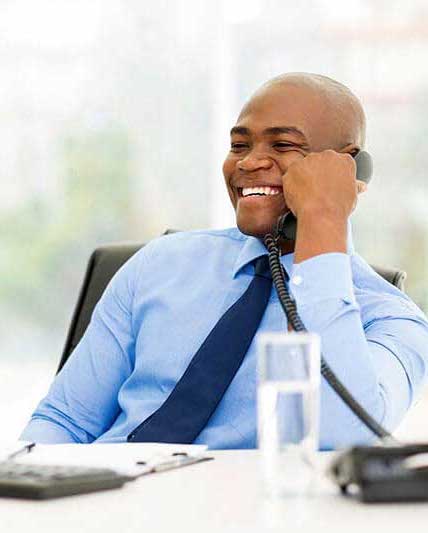 Is SIP Trunking the Right Solution for You?
Finding the right trunking solution can be very confusing due to the extremely large number of companies that provide these solutions today. Unfortunately, they are not all the same and different carriers are better suited to help different types of environments. When you work with us, we can help you pick the right trunking solution for your unique needs.
Assessments
We can help you identify what features you need and your security compliance requirements to choose the correct carriers to bring in.
Design
We can recommend trunking solutions based on current industry trends and best practices, so you can be sure that you are receiving a quality solution.
Implementation
In addition to securing the correct trunking solution, we can often assist you with implementing new solutions.
Audit Services
We will audit your current internet services and platform solutions to determine if you are using the best and most cost-effective solution for your business.
Procurement
We are supplier agnostic and work with numerous providers. We can offer the best options from multiple suppliers.
Expense Management
We want to provide you with a great solution within your budget and will work to make sure you are investing your money well.
Working with an independent consultant allows us to analyze your needs and source the best solution provider(s) that meet requirements and exceed expectations. This is done agnostically, letting you focus on the project at hand without being tied down by endless supplier discussions.
Contact Us
…or give us a call!
Office Hours
Monday: 9:00AM – 5:00PM EST
Tuesday: 9:00AM – 5:00PM EST
Wednesday: 9:00AM – 5:00PM EST
Thursday: 9:00AM – 5:00PM EST
Friday: 9:00AM – 5:00PM EST
Saturday: Closed
Sunday: Closed